---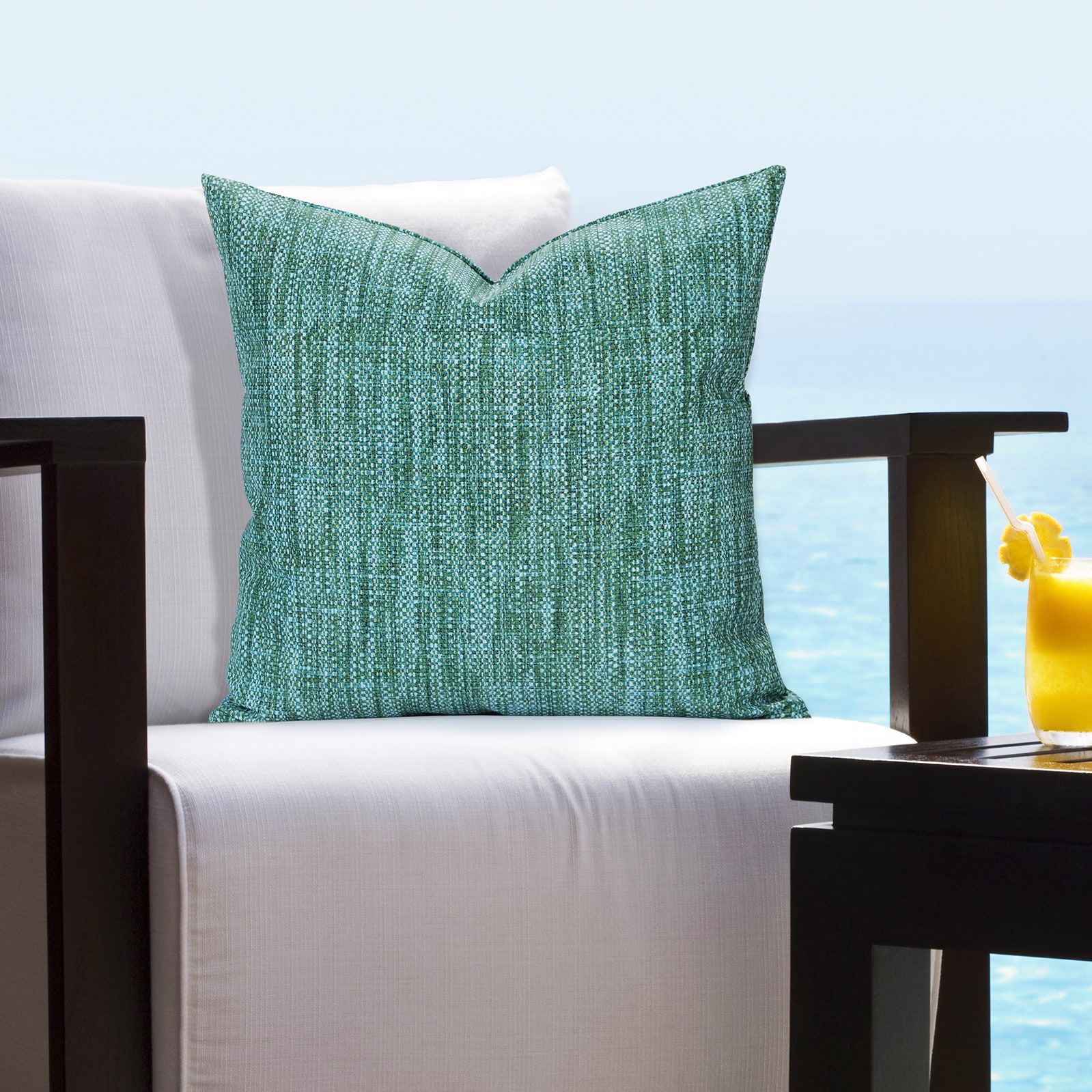 Siscovers Deep Sea Indoor - Outdoor Accent Pillow
Product Description: With a printed textured in soothing shades of blue and green the Deep Sea Solarium outdoor accent pillow by Siscovers makes the perfect coordinant to the tropical theme on your favorite outdoor hangout. The simple, sophitcated pattern of this accent pillow can beautifully transition though seasons as it is UV/fade, mildew, water and stain resistant. Made durable and easy to clean with just soap and water. You can either brush off loose dirt and gently hose down, or for those stubborn stains prepare a solution of 1 cup of bleach and 1/4 cup of mild soap (such as Woolite or Dawn dishwashing liquid) per gallon of clean water. The solution should be sprayed on (do not soak) the face of the fabric and gently brush. Do not keep the solution on the fabric for more than 2 minutes before rinsing with cool water.

Features:
Set IncludesOne Pillow
Pillow ShapeSquare
MaterialPolyester
StylePatterned, Coastal
Season or HolidaySummer, Fall, Spring
PatternGeometric
Care InstructionMachine Wash
Pillow TypeOutdoor
Exact ColorMulti-color
Fill TypeDown Alternative
Size26 x 26, 20 x 20, 16 x 16
ColorBlue, White, Green
16 x 16, 20 x 20, 26 x 26
Note
*All retailers not collecting sales tax from purchasers in Colorado, Kentucky, Louisiana, Oklahoma, Rhode Island, South Dakota, Vermont, and Washington are required to give the following notice: Although we, as the seller, are not obligated to collect sales tax in your state, this purchase is subject to sales tax unless it is specifically exempt from taxation. This purchase in not exempt merely because it is made over the internet or by other remote means. Your state requires that you file a tax return at the end of the year reporting all of your purchases that were not taxed and pay tax on those purchases. Retailers that do not collect Colorado, Louisiana, Oklahoma, Rhode Island, Vermont, or Washington sales tax, including ourselves, will provide you an end-of-year summary of your purchases to assist you in filing that report. You may contact your state's Department of Revenue for details on how to file this return. For purchasers in Colorado, Louisiana, Vermont, and Washington please note that we are required by law to provide your state with a report of the total amount of all your purchases from us at the end of the year.